What, where and when?
The very first F-liiga Draft event is held at the Bläk Boks Arena (Lempäälä, Finland) on May 17th, 2023. The draft is held right before the annual season awards celebration, F-gaala.

There will be three rounds at the F-liiga Draft. This means that every club picks three players and the pick order is set by the final results of the season 2022-2023. The first team to pick is the weakest team in the season 2022-2023 results and the Finnish Champion will make the last pick on every round.

We will inform more about the streaming of the F-liiga Draft soon!

Please follow F-liiga on social media and news at fliiga.com and hear about the latest updates about the Draft. Teams' social media channel is also great way to follow the Draft updates!
PICK ORDER:
1. round:
1. FBC Turku: Krisjanis Tiltins, Latvia
2. EräViikingit: Simon Stransky, Czechia
3. Jymy: Martin Hanousek, Czechia
4. LASB: Oskars Tutans, Latvia
5. OLS: Yannic Fitzi, Switzerland
6. Indians: Lukas Puncochar, Czechia
7. SPV: Gabriel Kohonen, Sweden
8. Classic: Adam Hemerka, Czechia
9. Happee: Sakarias Ulriksson, Sweden
10. Oilers: Filip Forman, Czechia
11. Nokian KrP: Matej Havlas, Czechia
12. TPS: Arvid Äse, Sweden
2. round:
13. FBC Turku: Edijs Senbergs, Latvia
14. EräViikingit: Matej Penicka, Czechia
15. Jymy: Ferdinand Ondruschka, Germany
16. LASB: Pascal Schmuki, Switzerland
17. OLS: Pablo Mariotti, Switzerland
18. Indians: Jakub Bursik, Czechia
19. SPV: Klavs Araks, Latvia
20. Classic: Filip Langer, Czechia
21. Happee: Noel Seiler, Switzerland
22. Oilers: Jakob Heins, Germany
23. Nokian KrP: Tomas Jurco, Czechia
24. TPS: Willy Sedin, Sweden
3. round:

25. FBC Turku: Ricards Riba, Latvia
26. EräViikingit: Ernest Ronis, Latvia
27. Jymy: Ondrej Papousek, Czechia
28. LASB: Elia Seiler, Switzerland
29. OLS: Tinius Waerstadt, Norway
30. Indians: Matiss Morozovs, Latvia
31. SPV: Daniel Chatrny, Czechia
32. Classic: Kim Varga, Philippines
33. Happee: Tomas Kvasnica, Slovakia
34. Oilers: Ondrej Zlesak, Czechia
35. Nokian KrP: Edwin Perry, Australia
36. TPS: Kevins Smits, Latvia
Q&A: F-liiga Draft – How does it work?
The Draft is only for foreign players and all the teams have agreed on picking at least one player who is not a citizen of Sweden, Switzerland, or the Czech Republic. If the player has also a citizenship other than one of these three countries (dual citizenship, other than Finnish), the player is considered as a citizen of this country.

The draft doesn't concern Finnish players or players who have played at F-liiga, Inssi-Divari (the second highest league in Finland) or at the highest junior league level (P22) minimum of 10 matches during the latest season.

The players picked must be at least 18 years old by the time of the Draft (17.5.20203). On the other end, the players can turn 22 years during the year of the draft. The players picked must have valid a license to compete in floorball at present.

The players drafted in 2023 are born in 2001 or later.

If the club has made a contract with a player eligible at the Draft before the April 30th, the club has an exclusive right to pick this player at the next Draft. The clubs are obligated to inform F-liiga about the player contracts finalized before 30.4.2023 for the players that are possible picks.

The pick is valid for each picked player for four years. However, the pick is no longer valid when the player turns 24 years. After the pick, the club must contact the player by end of June.

Yes. In the Draft contract the clubs have agreed on the terms for the talented player to transfer to a club other than the one originally picked the player.  Instead of financial compensation, the club that has made the contarct with the player, can

If the club no longer qualifies to play at F-liiga and instead plays at Inssi-Divari (the second highest league in Finland), the picks are still valid. In this case, if the player  signs a contract with a club other than the one originally picked the player, no compensation is required. The picked player can be signed without any compensation requirements as long as the club plays at Inssi-Divari. But if the team makes it back to F-liiga, the compensation requirements according to the Draft contract are again valid.

If picked player is signed and plays at least 10 matches at F-liiga, F-liiga will reward the club with a bonus agreed in the contract.

F-liiga clubs are able to negotiate about their pick order turns with other clubs. However, at every Draft event, every club has to have at least one pick order turn to themselves.

On the season 2023-24, there will be 12 teams at women's F-liiga (instead of 16 on season 22-23). The Draft for women's clubs will be launched in Spring 2024.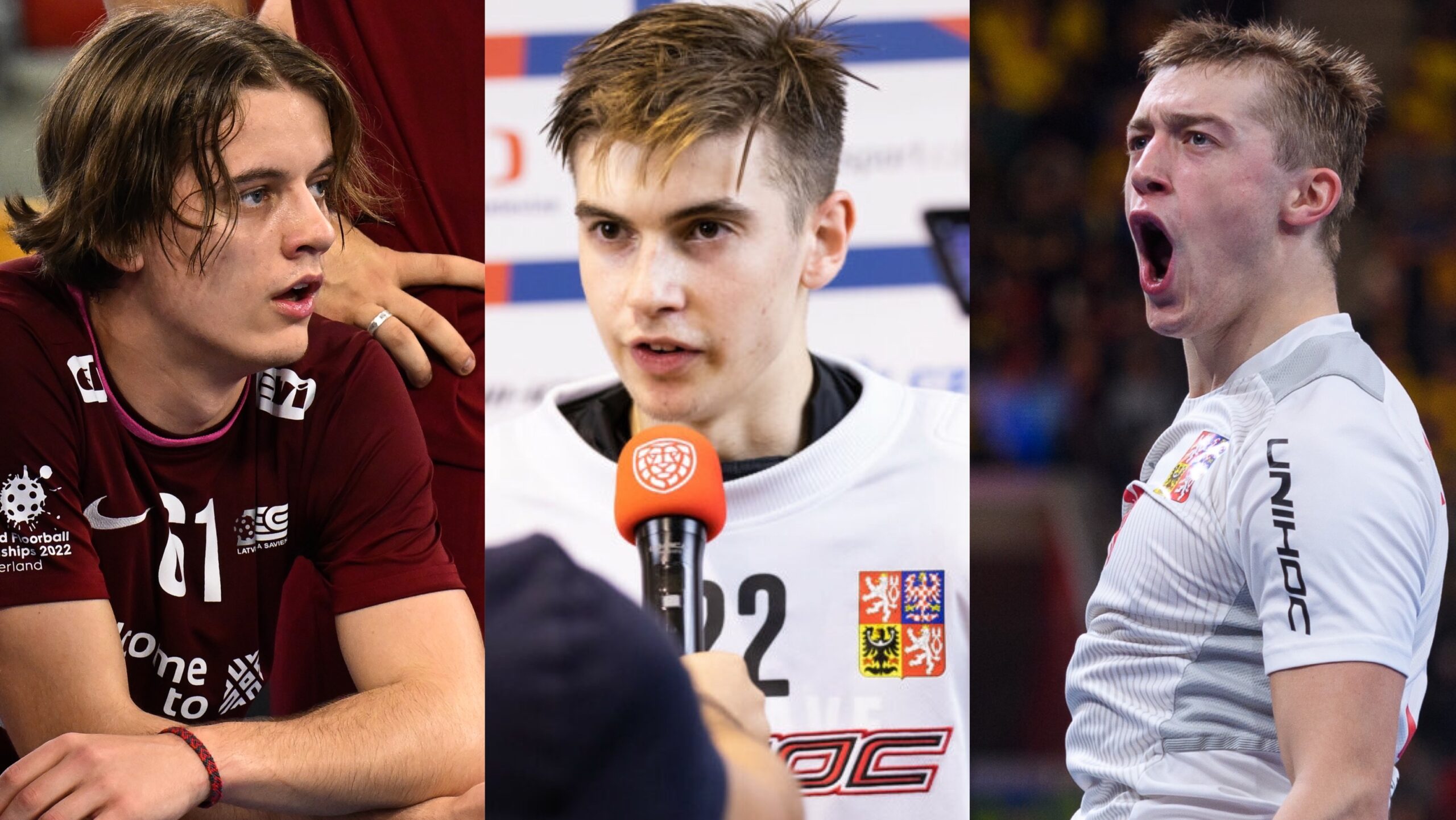 12 talents to watch towards the F-liiga Draft
The top 12 of the Finnish national team coaches
The coaches for Finnish U19 and U23 national teams listed 12 talents to watch towards the first ever F-liiga Draft.
Among them there are many elite players from top floorball countries, but also a few highly talented players from rising floorball countries. The list emphasizes talents born in 2002-2004.
1. Filip Forman 2002, Czech Republic
Very talented and skillful player with great perception of the game and innovative serving skills.
2. Matej Havlas 2002, Czech Republic
Right-handed sniper with a great shot. Is able to score already at WFC level.
3. Adam Hemerka 2002, Czech Republic
Straightforward and strong player especially when it comes to one-to-ones. Is able to play in more than one positions on a high level.
4. Jakob Heins 2004, Germany
Skills including shooting ability, ball handling and movement on the field already on a high level.
5. Lukas Puncochar 2002, Czech Republic
Very powerful defender with ability to play the ball on a good level.
6. Tomas Kvasnica 2003, Slovakia
Fast, skillful and efficient player who is ready to challenge in one-to-ones.
7. Oscar Johansson 2002, Sweden
Great all-around player with wide range serving skills. Is able to pass fore-checking with the high-quality serves.
8. Tomas Jurco 2003, Czech Republic
Goalkeeper with good reach and speed. Is able to make good saves especially in close range shots.
9. Kim Guilotte 2004, Sweden
Very dangerous player when near the goal area. Great scorer but also good when fore-checking.
10. Hannes Nyström 2003, Sweden
Straightforward player with a great ability to read the game and with wide range serving skills.
11. Daniel Chatrny 2004, Czech Republic
Powerful and physical forward with good reach and productive mindset in the game.
12. Adam Palcinsky 2004, Czech Republic
Defender with good reach and wide range of skills. Brings the rhythm needed to the game.
TOP3 lists by Toni Lötjönen:

The floorball expert of the F-liiga broadcasts, Toni Lötjönen, has named his top picks for the upcoming Draft Event, when asked. His TOP3 lists highlight especially many talents born in 2001 and can be drafted only on this year's event.     

TOP3 of the elite floorball countries 
1. Malte Lundmark, 2001, Sweden

A player born in 2001, and therefore can be picked only this year, is one of the super talents is Sweden. Lundmark made his debut in  Svenska Superligan only at the age of 16 – and scored immediately. Scored 2+1 at the WFC2022 and has already won the World Championship, Champions Cup and Swedish Cup titles.
In the Finnish league, there is always place for right-handed sniper. Lundmark is extremely efficient scorer and also a plyers with suprprisingly wide range of skills – not typical right-handed staying on one side but a players with very good reach
2. Filip Langer, 2001, Czech Republic

A player born in 2001 who has already played three times at the WFC tournment. Belongs to the golden generation in Czech Republic. Langer is extremely versatile and modern forward center.
Resembles in some ways Justus Kainulainen – also he ables to score as a forward center. Langer might have the best shot in floorball when the shot is made when running. 
3. Emil Ruud, 2001, Sweden
Also Ruud can be picked only this one time as born in 2001. Super talented player with the heigth of 189cm – is able to utilize the height on the field also. 
Ruud is extremely intelligent player who is able to make a great shot when using the advantage of his height. The stories tell, that he is also very motivated to become elite floorball player and star player for the Swedish national team. 
TOP3 of the rising floorball countries 
1. Jakob Heins, 2004, Germany
A German talent born in 2004, who played at WFC2022 in Switzerland on a very confident level. A tall player with good reach, that plays at the moment in Pixbo and has already made a debut at  Svenska Superligan. He has few more steps to take in order to secure a spot there. 
The Heins family has moved from Germany to Göteborg after floorball – this proves the level of commitment of him and his family. It would be great opportunity for a Finnish club to show F-liiga is good league to grow as player.  
2. Kevins Smits, 2001, Latvia
Smits is a slight surprise on the list. At the WFC2020 in Helsinki (played in 2021), he played seven games and scored seven point. And Latvia made its way to the 5th place in the tournament. He has already visited Switzerland and seen flooball outside Latvia.
He is a genuine left-handed sniper  with the height of 185cm – still not able to fully utilize the height and size. This season took the 7th place in Latvia's player stats. A player that could take big steps forward as a player, if in a right environment with right kind of coaching.
3. Kim Varga, 2002, Philippines 
Varga has made his debut this season at the Svenska Superligan with Falun. However, mainly played in the club's second team in Allsvenskan. Has scored over two point per match. Varga is a player with great intelligence and versatile skills with height of 170cm.  
He is able to play either as defend or as a forward, but in F-liiga, he would shine in particular as intelligent defend player with good level of movement. The Philippine version of Krister Savonen. 
Who are the top talents of the smaller floorball countries? The lists will be updated – stay tuned!